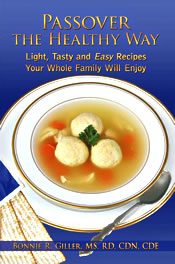 Passover is a holiday brimming with tradition that celebrates the Jewish people's emancipation from slavery during the Pharaoh's rule in Egypt. It serves as a remembrance of the hardships endured while in captivity. However, too often tradition revolves around foods that tend to be high in calories, fat, cholesterol and sodium.
"Passover is an extremely difficult
holiday. Many people I speak
with diet the weeks before the
holiday in anticipation of the
inevitable 5 to 7 pounds weight
gain they will incur."
~ Tamar Schwalb, M.D.
Enjoying Passover in a healthy way doesn't mean you have to compromise the foods and traditions you love. With proper planning and recipe modification, Passover recipes can be low in fat, healthy and delicious.
Contains a large variety of recipes ranging from Matzoh Stuffed Chicken Cutlets to a delicious Pineapple-Cherry Ribbon that will banish boredom and unhealthy dishes from your Passover menus.
The recipes in this cookbook have been designed to reduce your intake of calories, fat, saturated fat, cholesterol and sodium.
All recipes include Nutrition Facts for calories, total fat, saturated fat, polyunsaturated and monounsaturated fat, cholesterol, sodium, carbohydrate, protein and dietary fiber.
The American Dietetic Association and American Diabetes Association exchange lists per serving included.
Common easy to find ingredients used in all recipes.
This cookbook is great for the Passover traveler or the stay-at-home crowd.
Breeze through Passover without sacrificing taste with these healthy and creative recipes that are easy to prepare. With proper portion control, you will be able to maintain your weight over the holiday, get out of the kitchen to enjoy your company, and be greeted at the table with cheers and excitement.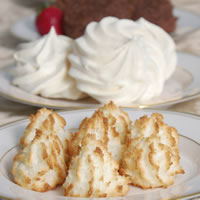 Over 100 taste-tested, healthy Kosher recipes!
See a sample recipe and an index of included recipes.
"Bonnie's cookbook provides those
of us who are health and weight conscious
with delicious healthy alternatives to
the standard Passover fare. As both a mom
and a physician, I am always conscious of
preparing nutritious meals that my kids will love."
~ Tamar Schwalb, M.D.
Passover the Healthy Way is available for order from this website
Order Your Copy Today!