Passover Cookbook
Traditional Recipes with
a Healthy Twist!
Does this sound familiar to you?
"I never get out of the kitchen; I am constantly cooking and baking."
"I always gain weight over Passover."
"Every Passover recipe contains huge amounts of eggs and oil."
"I serve the same recipes with little variety each year."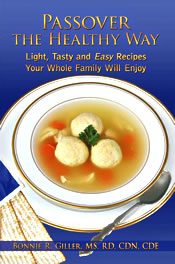 Those who have special dietary needs or are just interested in enjoying Passover in a more healthy way can find innovative and delicious recipes in this wonderful cookbook, "Passover the Healthy Way," by Bonnie R. Giller, MS, RD, CDN, CDE. With proper planning and recipe modification, your Passover recipes can be low in fat and healthy. This book contains more than a hundred taste-tested Kosher recipes that either limits or substitutes ingredients to make them healthier. Read More »
25% OFF HOLIDAY SPECIAL!!!
Order Your Copy Today!